Ahead of March 12 gubernatorial election, the Director General of the Katsina State Peoples Democratic Party (PDP) campaign Council, Dr. Mustapha Inuwa, has expressed optimism that the opposition party would emerge victorious.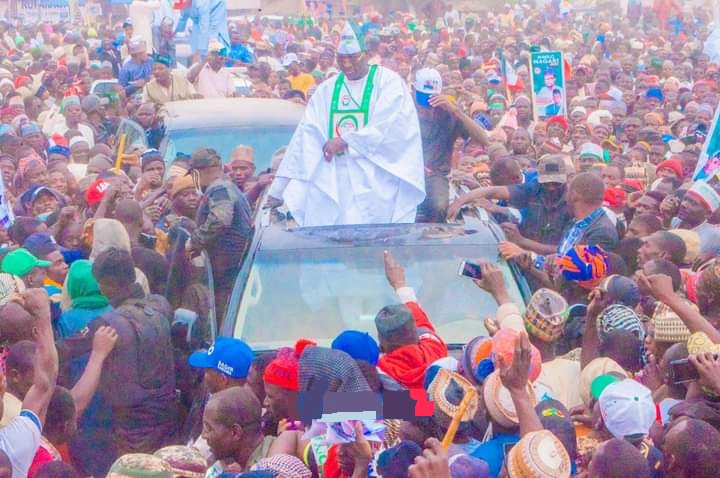 Speaking against the backdrop at the party's mega campaign rally on Thursday in Kankara, home local government area of the PDP gubernatorial flag bearer, Dr. Inuwa said the party has maximum support to win the governorship race.
The former Secretary to the Government of the State (SGD) noted that the party faithful and supporters that converged on Kankara were more than the crowd that thronged Muhammad Dikko Stadium Katsina for the recent presidential campaign rally of the ruling All Progressive Congress (APC).
He commended the people of the area for demonstrating that they wanted their son, Sen. Yakubu Lado, to emerge as governor of the state under the platform of PDP instead of producing a deputy governor (Faruk Lawal Jobe) under APC.
Dr. Inuwa said the state needed a governor in the mould of Lado that would be proactive in coming up with empowerment programmes and projects that would help in reducing the level of poverty and unemployment that were prevalent in the land.
Earlier, PDP chieftain from the area, Abu Kankara, disclosed that the people of the council area remember the era of Lado as chairman of Kankara LG with nostalgia because of the efforts of his administration to fulfill its responsibilities to staff and residents alike, saying the propaganda against Lado remained unfounded and baseless.
"During his tenure as chairman of Kankara, the salaries and entitlements were paid as and when due besides his efforts to provide basic amenities and services for our communities and people," he said.
In his remarks, the state PDP chairman, Lawal Magaji Danbchi, was confident that Lado, if elected as governor of the state, would change the narrative of the government and the state.
Danbachi consequently urged electorate to troop to the forthcoming polls with one mission in mind: to help give PDP maximum support.
Moved by the mammoth crowd, Sen. Lado said he has nothing to say than to give heartfelt thanks to God and the people for the enthusiastic encouragement and support.
##### #####